On 18 June 2019 Helpcode's staff participated as speaker and panellist at the 7th Session of  UNCTAD's Multi-Year Expert Meeting on Investment, Innovation and Entrepreneurship for Productive Capacity-building and Sustainable Development.
During 2019, Helpcode has being implementing in Libya the project Towards a Sustainable Migration, financed by the Italian Development Cooperation Office in Tunis. The project contributes to the improvement of the life conditions of migrants and refugees in Tripoli area.
Being in charge of monitoring the ongoing emergency operations in Libya, Martina Venzo presented the innovative remote-control application used in humanitarian interventions in low accessible area.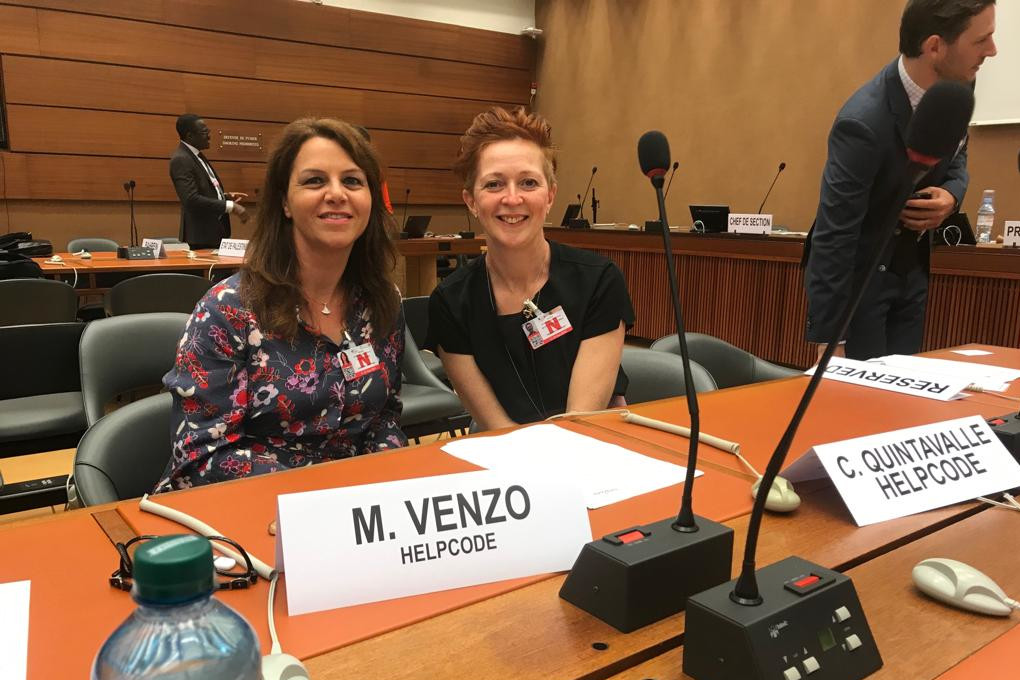 The continuous instability in several areas of Africa resulted in a unprecedent displacement of people at a global level and in an increased influx of migrants and refugees towards Europe and other third countries.
The lack of detailed, comparable, disaggregated data on migrant stocks and flows is often perceive as a main obstacle preventing the "formulation of evidence based policies to maximise the benefits of migration for economic development around the world.
In this context, harnessing big data can be very important to enhance strengthened mitigation, preparedness, and response capacities.
The management of the migration crisis is a complex process that requires significant capacities and cooperation amongst several stakeholders from different sectors: EU Agencies, National Coordination Centre, humanitarian aid and civil protection actors, NGOs involved on day-to-day management of the migration crisis, national authorities and private sector.
Helpcode is developing the necessary expertise to manage, design, and utilize remote sensing programs during both natural disasters and conflict-related emergencies, in particular in the Libyan context.
Libya's insecurity throughout the country continues to hamper access. Since last April, conflict has escalated in the country, severely restricting humanitarian access to the capital. To perform remote control mechanism, HELPCODE is using new technological tools to monitor the state of the art of building construction and non-food-items distribution, which would benefit both migrants and refugees in the Country.
The Big data sources that have so far been used in migration-related studies can be grouped under three categories:
Mobile-phone-based – e.g. call records or mobile money transfers.
Internet-based – e.g. social media or use of search engines.
Sensor-based – e.g. Earth Observation Data (satellite imagery).
For delivery management, we have used an application called GINA International, which allows data to be collected in the field to ensure that activities and security are managed remotely.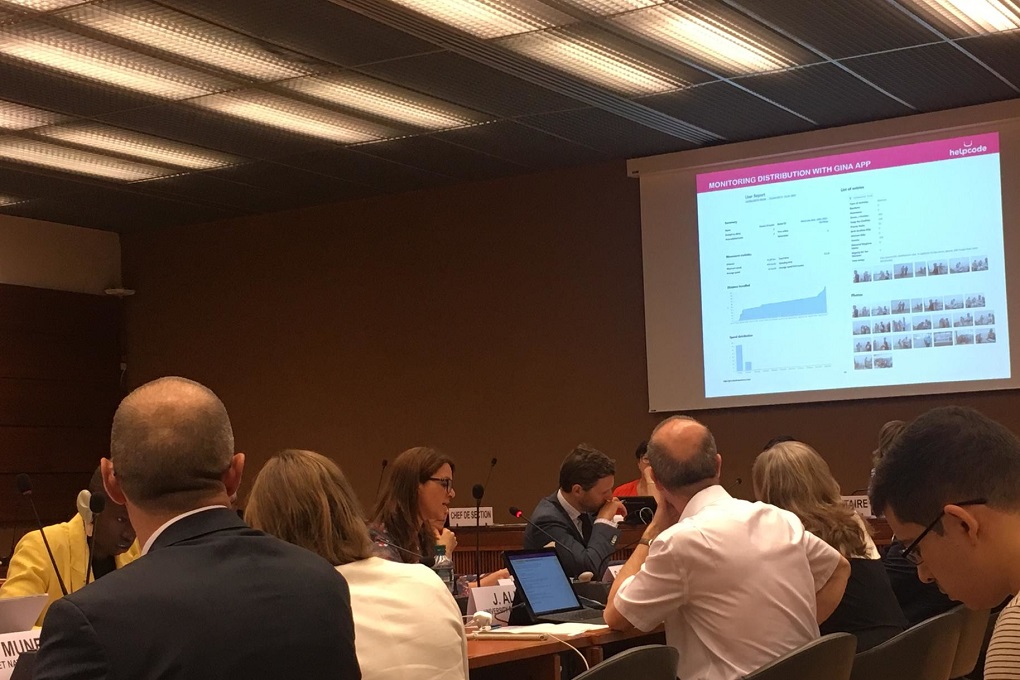 Presentation of Gina app report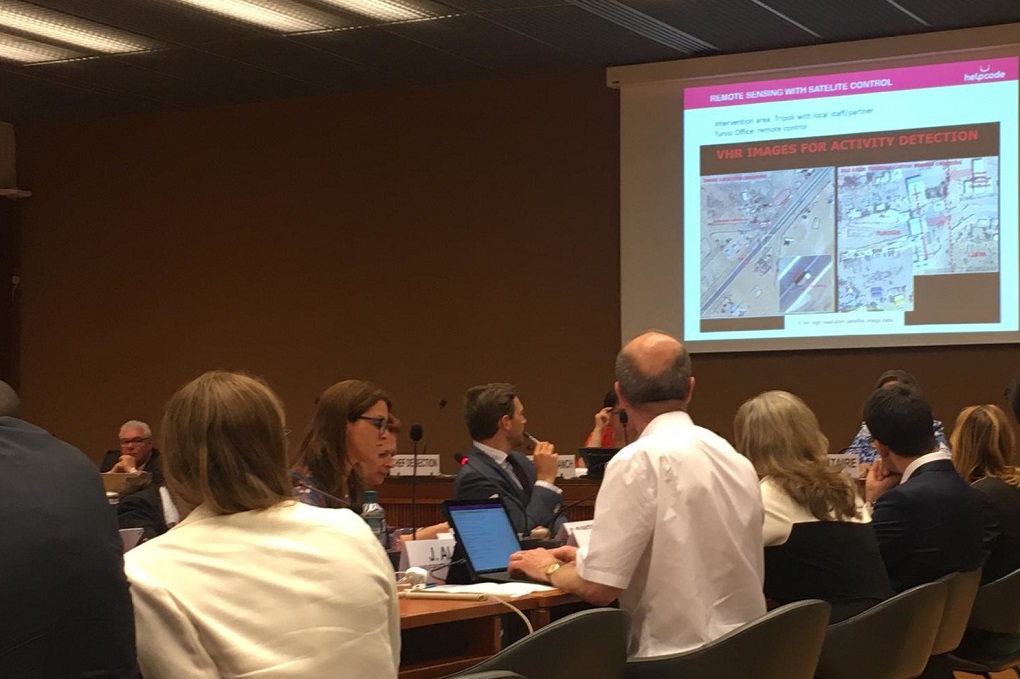 Presentation of satellite imagery
Operating in high-risk areas can expose our staff to risk. Having the ability to track our staff in challenging environment can increase their safety and improve the movement planning. The App allows the following actions:
VEHICLE TRACKING (Real-time tracking, Theft protection, Driver identification, Geo-fencing
PERSONNEL TRACKING (Real-time tracking using a Private mode, a SOS button which can activated in case of incident of need for help, can be link with a security and rescue team)
DATA COLLECTION & REPORTING (Offline data collection, 3W support and Data analysis)
SECURITY MANAGEMENT (Incident reporting, Warden system, Early warning system, SOP support)
Private-Public Partnership in remote sensing
As we have seen, the potential of these innovative sources is important in light of the current data gaps and the need to monitor progress towards the migration-related targets in the Sustainable Development Goals.
The increased availability of digital records represents an opportunity to address some of knowledge gaps around migration and mobility, especially given their timeliness, the frequency at which information can be updated, their wide coverage (of all users of mobile devices and internet-based platforms), and the level of detail they can provide.
An advantage is that such data are generated at no additional cost and can be obtained at a lower cost compared to data from traditional sources – depending on the willingness of data holders to share data or the insights these can generate.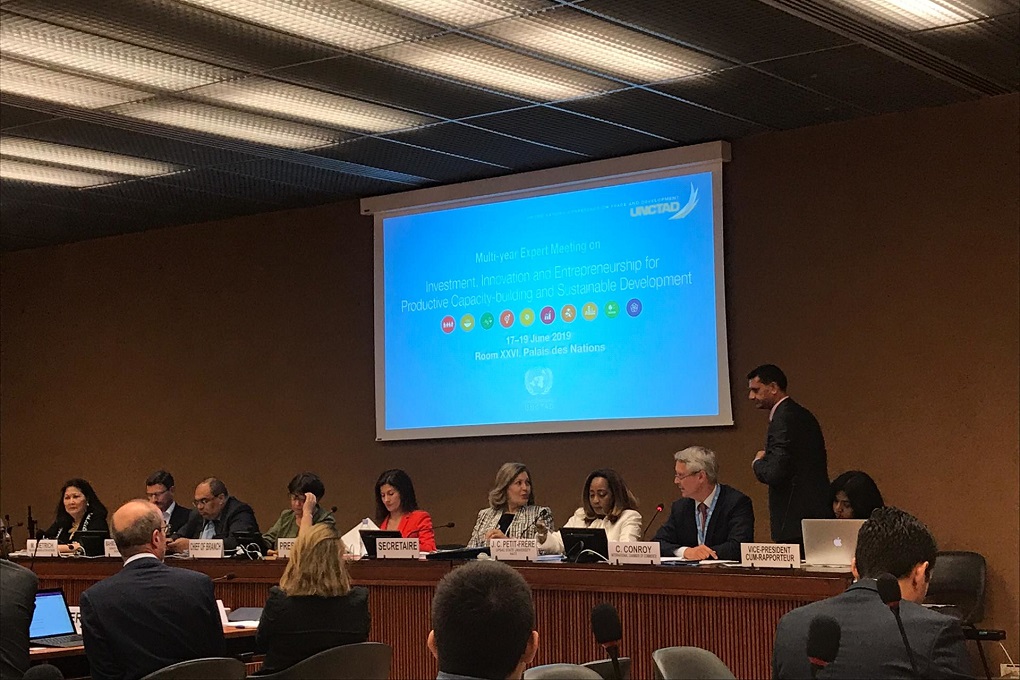 The meeting.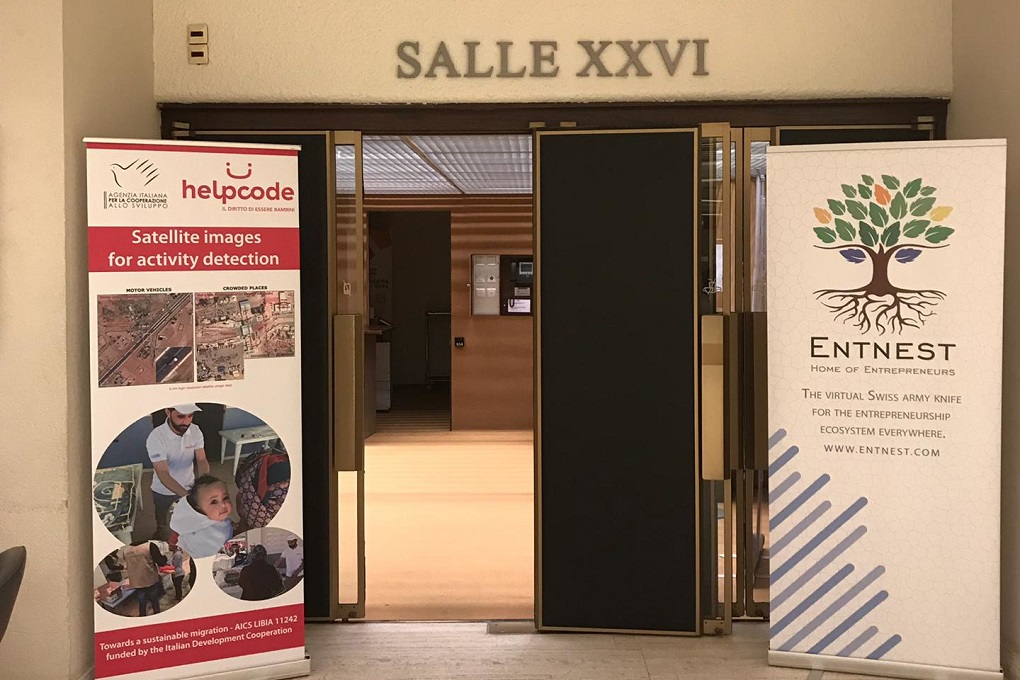 The room where the meeting took place
Public-private partnership and application in emergency and crisis area can lead to a more effective, cheap and less risky assessment and preparedness. The partnership should be incentivized to make progress in this area.
During the Informal Session 4 at UNCTAD[1], learning from others' direct first-hand experiences from other development partners has been involving and interesting.
We would like to thank the UNCTAD, the UN, and all participating organizations for having us at this event. It was a very exciting, positive, and inspiring learning experience which leaves us optimistic that there are many people and organizations vested in our world's brighter future.
This event has been funded by the Italian Development Cooperation project AID 11242 'Towards a Sustainable MIgration'
[1] UNCTAD informal sector: "Migrant entrepreneurs: Accelerating integration and economic development. Helpcode participated on Tuesday's Informal Session 4, titled "Migrant entrepreneurs: Accelerating integration and economic development", together with 6 other distinguished panelists from academia (University College London, University of Southern Denmark in Odense), the World Bank, the Switzerland Federal Department of Foreign Affairs, and other private sector initiatives like SINGA Switzerland and ARCADIA Blochchain.