Ken is the director of the primary and pre-primary school in the Sok San village on Koh Rong Island in southern Cambodia. The name of the island will not tell you much but in reality it is an extremely popular destination, having been the set of the reality show Survivor for some years.
The reality show has attracted the attention of many, struck by the beauty of white wild beaches and the flourishing nature of these islands in the Province of Sihanoukville. Uninhabited until a few years ago, due to the poor links with the rest of the country, now there is a population of about 2,500 inhabitants. Tourism has increased exponentially and luxury resorts are sprouting like mushrooms, especially in the most picturesque places, without too much attention to the ecological impact and risks for the conservation of the marine environment.
A bit like the survivors of the famous reality show, life on these islands is not easy, there is no electricity, internet is scarce and accessible only to tourists. There are no roads or infrastructure, there are no health centres and the only schools present (five primary and nursery and one secondary) have been built by Helpcode and other organisations in the last 10 years, only thanks to private donations.
Ken is from the Kampot Province and it was not his choice to teach in these remote islands, but the job was assigned to him by lottery. The same fate also befell the other 33 teachers on the island, who have to pay for housing and transport with a salary that has just been increased to 250 dollars. Some sleep in the building housing the kitchen, others under a tree or temporarily hosted by local villages.
"We have to fight every day against absenteeism and the migration of families and children," says the school's director. 'For many families, the education of their children is not a priority. Many parents prefer help at home or with fishing. Young people over 14 years of age are more attracted to the money made from the small cleaning jobs, taxis, helping out in tourist guest-houses, and so they leave school putting at risk their future possibilities of a better job and life".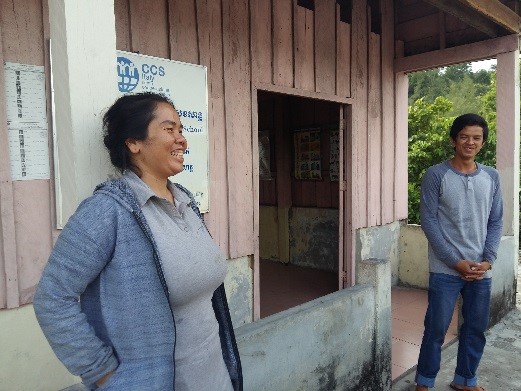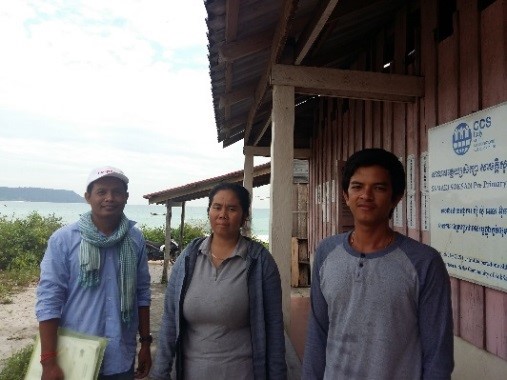 'Unlike my colleagues, we have never received any training or education. Ministry officials do not come to the islands and we feel abandoned – Ken continues in his good English. "What's your biggest concern?" We ask him. "For me it is the supply of material. To reach the nearest town takes about two and a half hours by boat – often very expensive – and in heavy seas no boats go out. In addition there are no funds for the maintenance of the school and bathrooms, in the afternoon the classes are dark because there is no power and there are often storms and floods on the island".
In Cambodia, rural areas and more remote areas such as the islands have very high school dropout rates, especially for girls. Ken's wife, who is a pre-primary school teacher, also confirms that are more likely to leave school, often because they have to help at home or in other cases parents prefer to send them to study in other parts of the country with grandparents or other relatives.
This trend is confirmed by a recent UNICEF study on the impact of migration on children. In recent years, the internal migration of young people, couples and families who leave their countries of origin for economic reasons or after the illness of a family member has increased. People move mainly towards the capital Phnom Penh, where the population has doubled since 1998 (from 567,000 to 1,237,000 people, with an annual growth of 8%). Cambodians also migrate to neighbouring countries looking for work, especially to South Korea, Malaysia and Thailand.
There is no precise data on migrations of school-age children, but it is estimated that in the country about 8.3% of the total number of migrants is between 10 and 19 years of age, of which 3.25% between 10 and 14 years of age. Many of the school-age children who do not follow their parents (82.4% of children left behind) are left with their grandparents, who often do not have the health, resources and means to take care of their grandchildren, leaving them often unattended and to do small jobs even at a young age.
Helpcode has been operating on the islands of Kon Rong and Koh Rong Sanloem since 2008. In these years we have contributed to the construction of 5 pre-primary schools, supported educational activities and provided training courses for teachers. We are also building and restoring toilets and washrooms, organising extracurricular activities such as English courses, swimming lessons and income generating activities to support the poorest families. In April 2018 we concluded an assessment on the quality of education on the two islands [1] to promote an improvement in the educational situation and child protection.
[1] 'Quality education assessment on Kon Rong and Koh Rong Sanloem: Challenges for remote Islands of Cambodia', Helpcode, April 2018.